Walking into Jess Chen's sun-soaked Toronto studio, it's hard not to feel a warm wave of creative inspiration. The fifth floor walk-up checks all the boxes with hardwood floors, high ceilings, and massive windows. Blessed with century-old bones of beam and brick, Jess and her four studiomates at Seven Eight Tattoo have further shaped the space into something that more closely resembles a relaxed artist loft than a tattoo studio. With a business model built on meaningful, lasting client relationships, that's exactly the way that Jess likes it.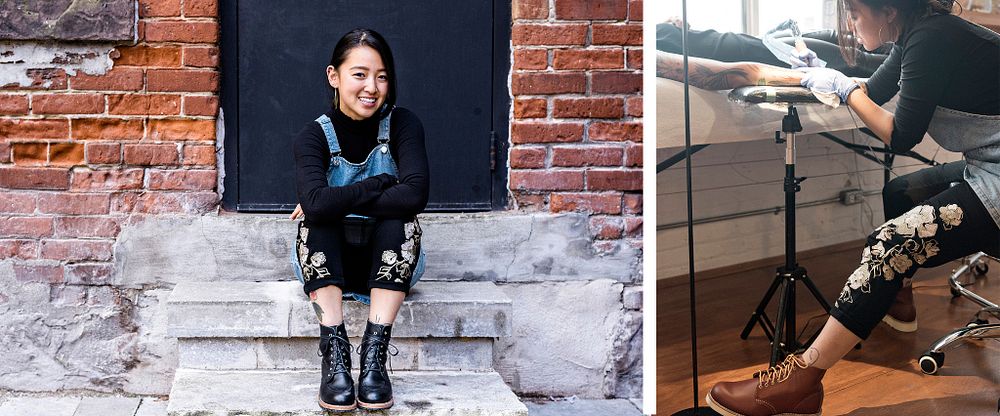 Jess Chen
Tattoo Artist | Toronto, Canada
We traveled to Toronto last October to see Jess' process in action and learn more about her creative trajectory. Acclaimed for her distinctive minimal style, Jess creates flowing, colorful works that showcase exceptional precision, made all the more impressive given that she started tattooing professionally in 2015. A former graphic designer, Jess transitioned into tattooing to pursue a more tangible, hands-on creative process that reconnects her work with a passion for painting and drawing that's driven her throughout her life.
"So much of creating art is about carrying your thoughts or expression through your medium," Jess explains. "I've always felt more connected to the way holding a paintbrush or pencil invites a personalized, artistic touch. Digital can almost be too perfect at times. I think those moments of imperfection are what really makes physical art so special. It's the story of its creation and a reflection of the artist."
After a year-and-a-half apprenticeship where she learned the ins and outs of the trade and began to hone her skills, Jess began work at Seven Eight Tattoo. Prioritizing artistic development over profit, Seven Eight has provided her with the space to push her craft and dig deeper into different traditions and techniques.
"At a lot of shops, it's all about how many tattoos you can crank out," Jess explains. "You have to execute what the client wants, even if it isn't your style. The opportunity to work in this space has been so beneficial for me. Seeing how the other members of the studio express themselves and evolve their work is constantly inspiring."
During two-and-a-half years at Seven Eight Tattoo, Jess has added handpoked tattoos to her repertoire, while continuing to refine her overall technique and execution. Her progression has sparked a rapidly growing following around the globe, with over 124,000 fans following her work on Instagram. The pervasiveness of the platform among millenials has provided Jess and other tattoo artists with an ideal avenue to showcase their work to core demographics. While she's grateful for the exposure that's helped fuel her success, she's mindful of risks that lie in constantly being plugged in.
"Instagram exposes you to a ton of different styles, but it can be too much," Jess says. "There's a temptation to chase trends online. I disconnect by going back to paper with abstract collage work. I'll start by drawing a line and challenge myself to create balance and harmony as things start to flow and develop on the paper."
Jess' collages fill stacks of notebooks and inspire many of the designs that develop into tattoos. In the tattoo world, her work stands out by eschewing the traditional hard lines that are commonplace in the medium, instead showcasing softer, flowing executions. This style choice creates tattoos that tend to age and fade more quickly than darker, more saturated pieces. Viewing her work as art that evolves with its owner, Jess embraces the aging potential of tattoos:
"People change over time, so why can't their tattoos?" she asks. "A quality tattoo needs to always heal well, of course, but I do think it's possible to create tattoos that fade and tell a beautiful, evolving story as they age along with their owner."
We were first drawn to Jess' work for its classic, enduring beauty. An afternoon in her studio, learning more about her steadfast commitment to handcrafted creativity drove home why we're proud to continue the development of the Red Wing Women's Heritage Collection.
When asked what advice she has for first-time clients, Jess simply responded, "Don't invest in something just because it's trendy. Get something that's classically beautiful, and you'll never regret it."