Ingo Keller is a well known cobbler in the Red Wing world, who started working as a cobbler in a traditional shoe repair shop in Cologne, Germany at the tender age of 20, just after finishing his shoe repair apprenticeship. In 1996, he decided it was time to become his own boss and he took over ownership of this shop. Today, he has over 30 years' experience as a cobbler under his belt and his repair shop "Schuhmacherei Ingo Keller" is famous for its quality repairs and the customizing of Red Wing boots. During his long career, Ingo has gained the respect and the trust of many regular customers, some of whom jokingly gave him the nick name "Schuhgott" (German for "god of shoes").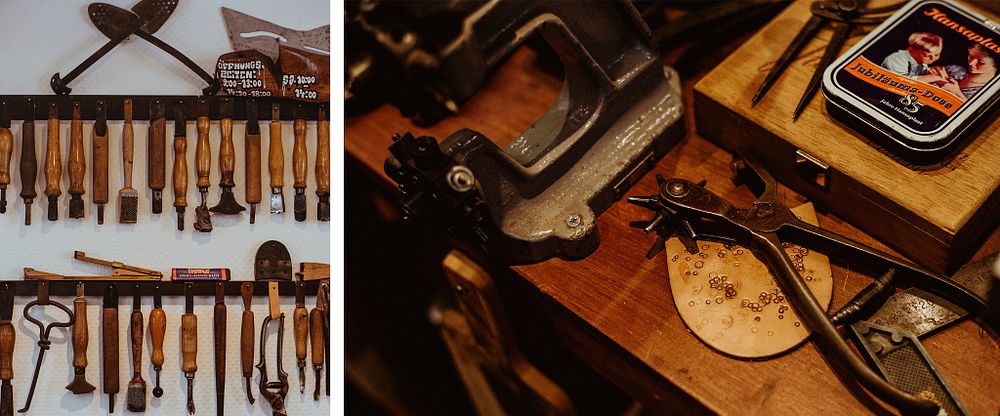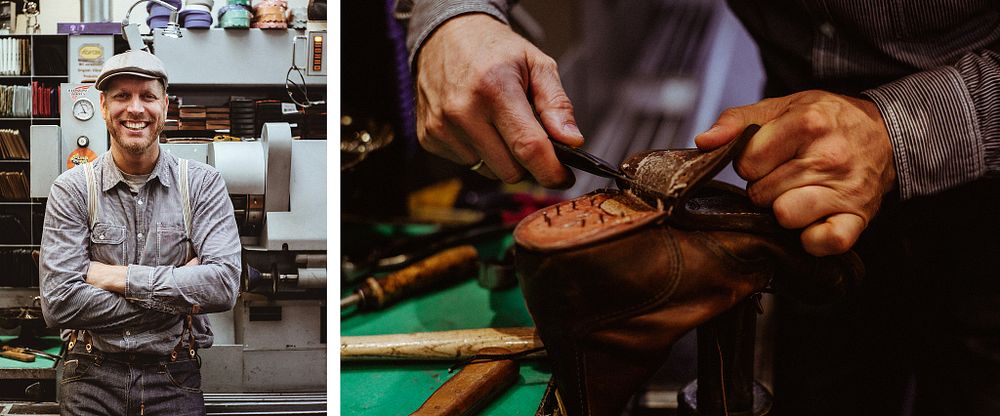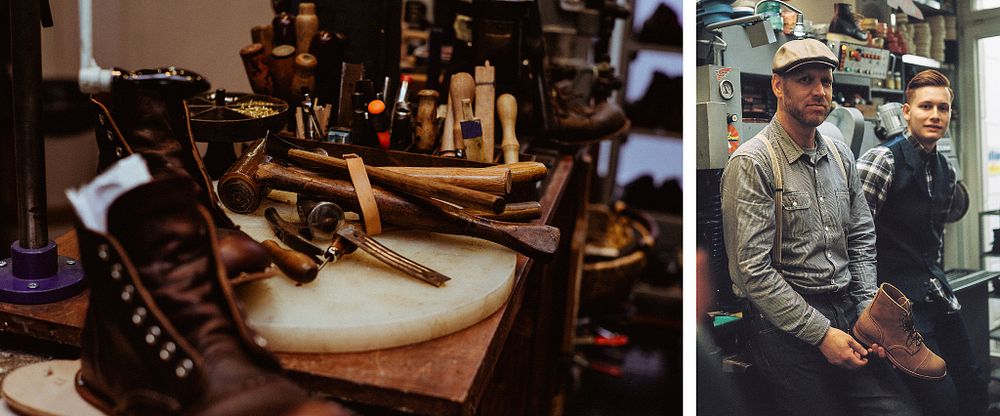 Ingo Keller
Cobbler | Cologne, Germany
We visited the Schuhgott in his workshop to take some great photos of the space and of the machinery. Later, we met Ingo again at a traditional Brauhaus in Cologne called Haus Schwan. During some traditional German food, we talked about his shop and the cobbling world in general. Unfortunately, the meeting took place on a Friday during lunch time and we both had to work afterwards, so no, there were no Kölsch (typical Beer from Cologne) involved!
How did you get to know Red Wing?
About 10 years ago I had a customer, an actor, who used to come to my workshop and kept telling me: "Ingo, you have to start repairing Red Wing Shoes, they are really, really good." This customer always drove to the RWSS in Frankfurt to get his Red Wings. At that point, I wasn't really aware of Red Wing as a brand yet. I became an official Red Wing cobbler when, by coincidence, I bumped into Guido and Sascha Wolf, who own the RWSS in Cologne. Naturally, we started talking about footwear and before I knew it, 4 hours had passed! Towards the end of this conversation, Sascha told me they were looking for a cobbler to support the RWSS in Cologne. Of course I did not hesitate, as I remembered how passionate some of my customers were about Red Wing and how well I got along with Guido and Sascha. I feel like this meeting could not have been a coincidence!
Can you remember your first pair of Red Wings?
Of course. It was the 8113 Iron Ranger that I am wearing right now. I have rebuilt my pair using a leather midsole and the Vibram 430 mini-lug outsole.
What is your favorite style?
That is impossible to say. I personally like a boot with a heel and have a very narrow foot, so the Iron Ranger is a good fit for me. But I would not be able to choose which style I love the most. When worn, every boot is beautiful in its own way.
What do you like about Red Wing?
Of course, I like the history of the brand and the long list of famous and non-famous people who have worn them, e.g. Jack Nicholson in "One Flew Over the Cuckoo`s Nest". I also really like the setup of having RWSS offering a unique service and customer experience, paired with selected high quality retailers, and a network of cobblers, who offer a premium repair service. Most of all, however, I really like the people who actually wear Red Wings. The way they love the brand and identify with it and your products fascinates me. Every shoe is different, due to different wear, different care, and just simply because of the person who wears the boot, and that's what I find really interesting. When I receive a pair for a resole, I am always very curious about the story behind the boots. Whenever I get a chance to meet my customers, I always try to find out what stories surround every boot.
Where do you receive most repairs from?
Most pairs are dropped off at the RWSS Cologne. I usually go to the store once or twice a week to pick up boots that need a resole or repair. Besides that, boots are sent to me from all over Germany, especially from the Ruhr Valley Area with its great and vibrant biking scene, but also from everywhere in Europe and across the globe. Even customers from the US and Malaysia have sent boots for a resole. I guess most people become aware of my Instagram account and simply get in touch.
What is the most requested repair service?
Most of my work for Red Wing is still resoling. I don't get a lot of repairs or defects. Most customers don't realize just how much work actually goes into what seems to be a simple process of resoling, though. During every resole, the full sole construction is replaced and renewed. I fully deconstruct every pair, replace the cork filler if needed (this can become brittle from years of wear), and replace the midsole and outsole. And I also clean all parts of the boot. This takes a lot of work and skill.
What do you think of the quality of Red Wing? You must also see and repair a lot of other footwear?
Red Wing uses extremely high quality leather. This is not only great for wear, it is also extremely easy to clean and repair. I think Red Wing offers great value. Of course you can buy more expensive boots, but in Red Wing's price category, it is very difficult to find another boot of such high quality.
How has the profession of cobbler changed?
In the 80s, all a cobbler did were repairs and resoles of lower quality footwear. Your work was expected to be cheap and quick. This has changed, as more and more people are spending a little more money on a good pair of shoes and understand that good things have their price and also take some time. This is true for shoemaking, just as much as for any other job. Fortunately, I have more and more customers who are willing to wait a week longer to get the quality of service they expect.
Your son also works in your workshop. He is 19, right? How do you think business will be when one day he will take over?
Yes, he is 19 and has 1 year of (cobbler) education left. I hope one day he will choose to continue running the business here in Cologne. I think there is a trend that will continue for a long time. Even though there are still a lot of people buying throw away items, there are more and more people that are interested in a more sustainable lifestyle. These people are also interested in a good pair of denim, a high quality shirt, and a good jacket. I think that this group is only going to continue growing in the next couple of years.
Do you still have a professional dream? What do you dream about?
You know what, actually I am very, very happy at the moment. I was fortunate enough to have a great teacher in my cobbler education, who always told me that I should not only make the customer happy, but also myself by the time the customer left the shop. This is a valuable lesson I learned early on. My customers rightly demand a premium service, which takes time and also has its price. If the customers and I both realize this, both sides will be happy. But I also apply this lesson to my work in general. I understand that my employees sometimes work 12-hour days to help me maintain a high level of quality. I therefore need and want to pay them accordingly. In a small, family-run business of 4-5 people, the personal relationship you have with employees is really important, because you spend so much time together, in our case in a really small space.
Any advice you have for Red Wing owners or fans?
I think the most important advice to any Red Wing owner is to care for your boots and to respect the product you have purchased. Many people don't use care products or are scared to use these products. Some people are even scared to clean their boots. To those people I would like to say that the leather Red Wing uses is made to withstand a lot of wear and tear, but it does also need some care from time to time.
Any general rules of thumb in regards to care?
Please give your boots some rest from time to time. Ideally you set your boots aside after intensive usage to let them dry properly. I recommend using cedar or beech wood boot trees as they absorb moisture well. If you don't own boot trees, you could also use newspaper, I guess. But boot trees are better. In general, you should be able to tell when your boots need care. This depends on how much and in what conditions you wear your boots. The leather will start to look and feel dry and you will notice more creasing in the leather. This is an indication that you should apply some care product. If you are unsure which product to use, simply visit the care section on the redwingheritage.com website, then choose CARE GUIDES. After selecting your style, you will be guided to the right products and detailed care instructions. On the other hand, do not overprotect your boots. Similar to your own skin, leather can only take in a certain amount of product. The rest will just stay on the surface. You should be able to identify when the leather is saturated by the leather's ability to absorb the product you are using. Don't use too much! Please just make sure you use quality product on your boots. I always tell people: "If you own a Porsche, you would also choose a high quality oil for its engine. The same is true for your boots."
Website: schuhgott.de Instagram: @schuhgott_custom_shoe_repair Facebook: Schuhmacherei Ingo Keller