A Red Wing enthusiast since his school days in Tokyo, Aki Iwasaki has spent 20 years pouring his passion for Red Wing history and craftsmanship into the brand. In the decade prior to the global launch of the Heritage line, Aki was already designing archival-inspired Red Wing styles for the Japanese market. In 2007, he helped to lead the global Heritage launch, taking on the role of head product designer. He relocated from Tokyo to Red Wing, Minnesota in 2013 to work hand-in-hand with Red Wing's S.B. Foot Tanning Company and production facility at Plant 2.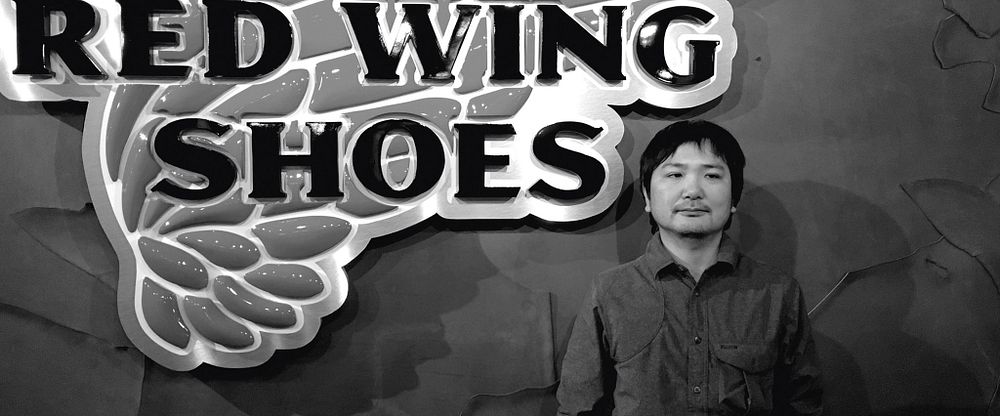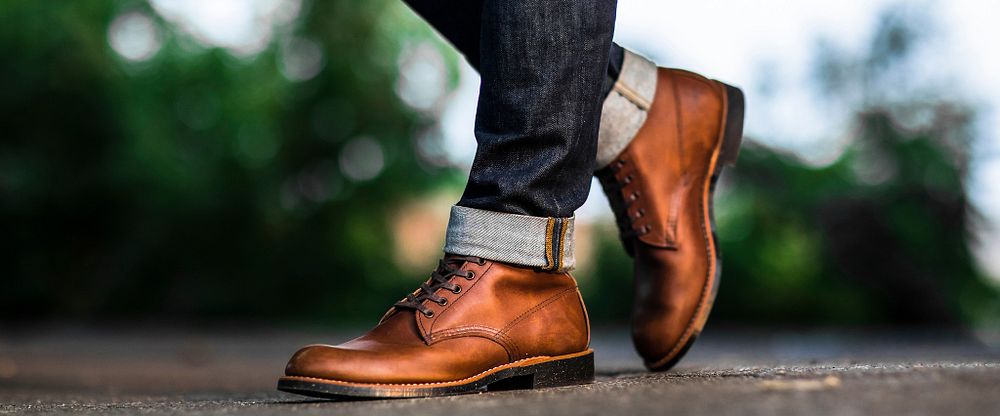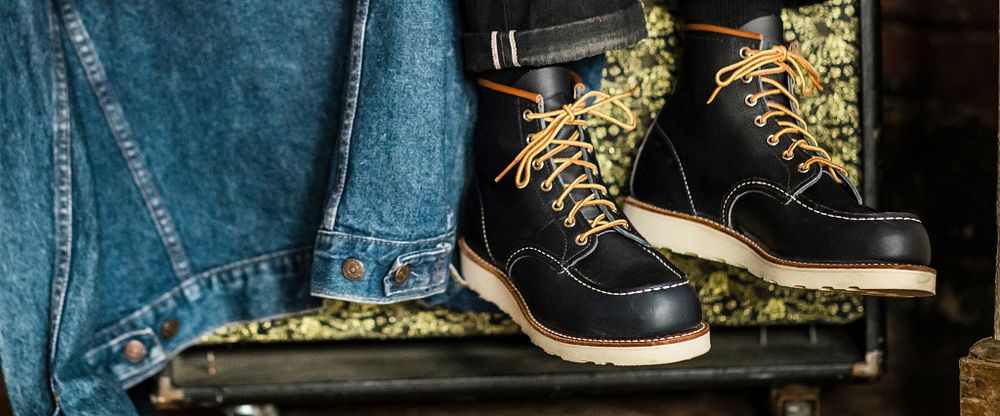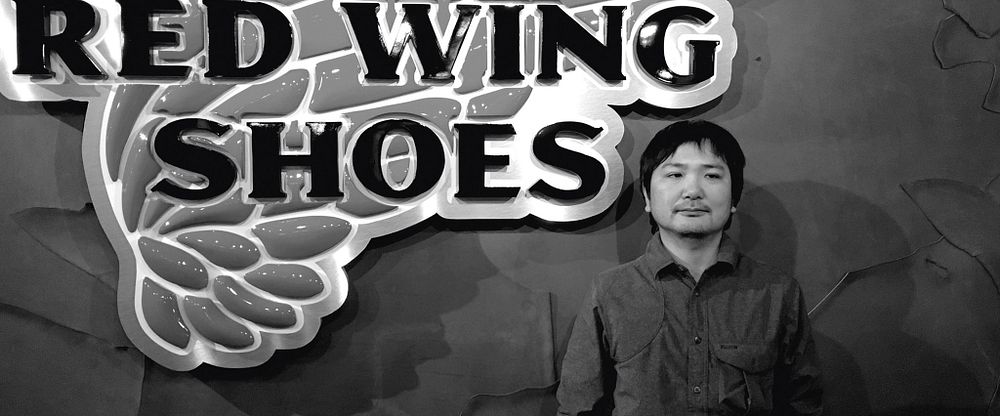 Aki Iwasaki
Heritage Product Designer | Red Wing, MN
When did you relocate to Red Wing? How does living in Red Wing compare to living in Tokyo?
I moved to Red Wing in 2013. Before the move, I was living in Tokyo and working for Red Wing, designing Heritage products. At the time, Japan was the largest market for Red Wing Heritage, so it made sense for me to stay. Also, Japan is the birthplace of Red Wing Heritage. As European and North American markets continued to grow, I decided to move to Red Wing, Minnesota to be more connected with the global market and closer to production at the factory in Red Wing. Red Wing is a really quiet town. There aren't too many exciting things going on in such a small town, but I enjoy a life closer to nature. I BBQ along the riverside, snowboard and trek often. I also grow Japanese vegetables in my garden, which are very hard to find in Red Wing.
What are some things about living in Red Wing that surprised you?
There are still so many old buildings and houses in the town! Except for the cars, it almost looks like there has been no change from when settlers established this town. Surprising to me, people in Red Wing still use the old buildings fully for work and live in the old houses that are remodeled to have modern function with original appearance. The house I am living in was built in 1915, more than 100 years ago. We have modern air conditioning and all the other technology you could expect in a new house. I feel that this mentality of living in an old house that is maintained to survive as long as possible is close to our Red Wing footwear mentality to help consumers wear the Red Wing products as long as possible, with resoling and repairing the uppers.
When you're scouring the Red Wing archive for historical inspiration, what sort of characteristics do you look for to decide if you want to bring a model back or incorporate design elements in future product launches?
The basic components of Red Wing Heritage products don't change very much at all from the original development. The Red Wing 875 Classic Moc, the most iconic product from Red Wing, was developed in 1954. We slightly changed the label design, modernized the outsole and updated the leather color. The bones of this shoe are the same as almost 70 years ago. I do look closely at the details. The 9875 looks very similar to 875, but there many differences in the details.
What is one of your favorite finds from the archive?
I always enjoying looking at unique features of our old work boots. I see them as more than just beautiful vintage footwear. A good example is the non-box toe boot. Typically, footwear has a box toe, which keeps the toe shape. In the 1930s, we did not use the box toe to make the boots more flexible. This helped workers squat more easily without any stress from the box toe. We incorporated this detail in the Heritage line with the Merchant and Sheldon.
What do you think it is about Iron Rangers and Classic Mocs that people love so much?
The Japanese market led the development of the Iron Ranger when the Red Wing Heritage market was not well established in EU and NA markets. At that time, I felt the Japanese market was very unique because there was major demand for both the Iron Rangers and Classic Moc. Now I feel I was wrong because the Iron Ranger and Classic Moc, and the spirit of the brand in general are embraced by all of our markets.
What are some of your favorite parts about your job?
Developing a new leather. We are one of very few footwear companies that still owns its own tannery. Because the tannery is located in Red Wing, we can work very closely with them. Our Black Chrome leather is a struck-through leather, but it used to be not struck-through with a brown color in the flesh and the grain painted in Black. We were able to make this change when the US government regulated oil base staining materials to protect the environment. I worked closely with the tanner to develop this leather to quickly get it back in production..
What sort of things do you turn to for creative inspiration in your daily life?
I decorate my home with vintage items, and I mostly wear vintage clothing. Being fully in this mindset helps me develop new product ideas.
What are the main things consumers in the Asian, North American and European markets look for in RW footwear?
In Asia, mainly Japan, made in USA is huge. They like the USA-made products because they are simple, sturdy and last a long time compared to products from other countries. The story behind each product detail is also valued. Japanese consumers tend to love talking about why the boots have certain details. #9875 Irish Setter Moc toe is a perfect example. The boot is similar to 875 Classic Moc, but there are many small different details that Asian consumers appreciate. In North America, made in USA is also important, but I think for a different reason than the Asian market. It is not an exotic appeal because it is home. People feel true pride in their country. History is also important. Red Wing Shoes was established in the US in 1905, and the boots have a reputation as tough and purpose-built. Even though Heritage boots are lifestyle products, they come from proven work boots, and this legacy matters a lot. In Europe, made in USA is not quite as important, but good construction and durability is. Many European consumers religiously update styles seasonally, but with Red Wing they make an exception and view it as an evergreen product. History is the other factor. Brand awareness was low when Heritage was introduced in the 90s, but it has grown significantly, and Red Wing is viewed as the original and genuine American work boot brand.
What kind of legacy do you want to leave behind at Red Wing Heritage?
Commitment to made in USA. Now we are seeing more than ever the difficulty to make products in the US, but we must continue to maintain our character and craftsmanship.
What do you hope someone who wore Red Wings in the 1940s would think of RWH?
We used a tag line "Made to wear – Everywhere" in the 1920s and 1950s catalogues. This is a message to express that Red Wing Shoes are a tough product made for different occupations. Our Heritage products still reflect this. Our Heritage products are mainly sold at specialty shoe and clothing stores, but the quality standard we follow is the same as the standard for Red Wing Work products, which is much higher than casual footwear brand standards. I hope that someone from the old days would agree that we are true to the spirit.
What do you think is unique about being a product designer at RWH, compared to other footwear brands?
At other companies, you need to stay on top of trends. We don't do this. We watch fashion trends like everyone else, but we don't follow them because we are not a fashion brand. We are a lifestyle brand. We have many employees who have deep knowledge about our Heritage products, and I work with them closely to create new products rather than just following trends. It feels old school, and we like it that way.