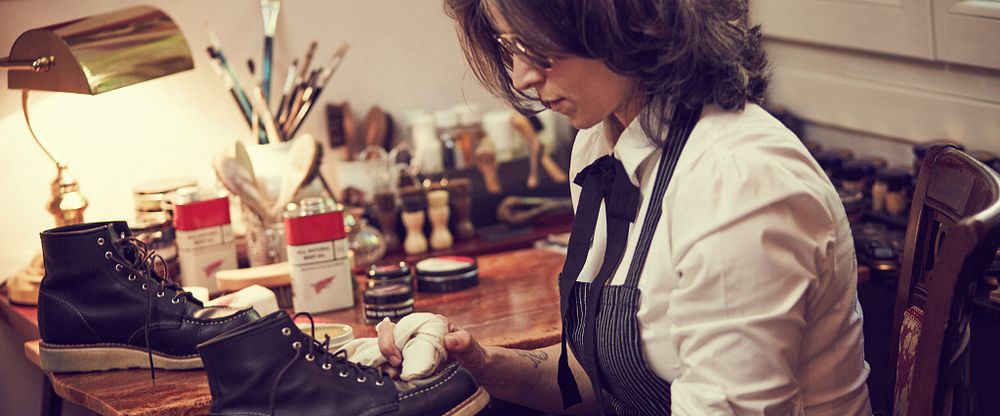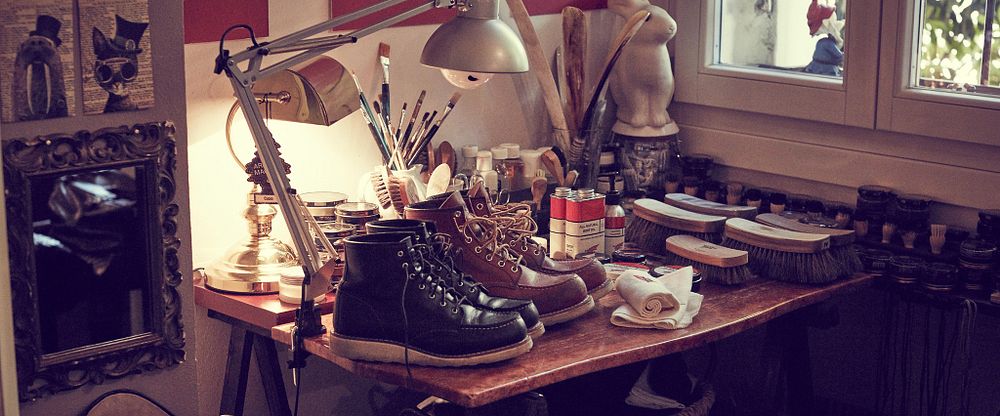 Eleonora Lovo
Shoe Shiner | Red Wing, MN
Interview by Rik Van Dijk, Red Wing Heritage, Amsterdam Office Photos by Chiara Giannoni
Did you know that Romeo & Juliet is set in Verona, Italy? Shakespeare chose this beautiful city as the backdrop for his famous play with good reason, as romance, drama, and family feuds have been the city's hallmark for centuries. In the 3rd century BC, Verona was known as a Roman trade centre and it was in this time that the gates, bridges, and large Roman Arena, which can all still be admired today, were built. Today, the city is an Unesco World Heritage Site and a cosmopolitan crossroad, especially in summer when the 2000-year-old Arena hosts opera's biggest names.
Verona is also the birth place of Eleonora Lovo. And while Romeo and Juliet struggled with the tragedy of their star-crossed love, Eleonora struggled to be accepted into the world of Italian "Lustrascarpe" (the Italian word for "shoe shiners"), a world dominated by men. Italy is famous for its style and design in general, and specifically for its handmade leather shoes. Italians take the profession of Lustrascarpe very seriously. Taking care of your boots is part of everyday life in Italy. Fortunately for the world of shoe shining, Eleonora is a strong and independent woman, who was determined to become a professional Lustrascarpe and so her story does not end tragically like the love story of Romeo & Juliet does: Eleonora managed to fight her way into the Lustrascarpe profession and is now a well known and respected personality in that world.
The paths of Red Wing Shoes and Eleonora crossed naturally. Red Wing puts a lot of emphasis on shoe cleaning and boot care in general and is always looking to educate consumers on these topics and Eleonora "Madame Lustrascarpe" is a specialist in taking care of leather and shoes. We found Eleonora and her story so inspiring, we asked her to join our small group of Red Wing Heritage Women makers.
Can you tell us a bit about how you became a shoe shiner (Lustrascarpe)?
Before I became a shoe shiner and "Madame Lustrascarpe", I did many different jobs from selling cosmetics to waiting tables. I also worked in a halfway house (Caritas) for homeless and poor people, an experience that taught me a lot in terms of the human touch.
The passion for shoes is something I have always had and I wanted to turn this into a service for customers and for events. Studying professional shoe shiners at work was very inspiring to me and it made me even more sure that shoe shining was something I wanted to do.
So I started studying the art of shoe shining and learned the basic steps. I took this very seriously, like the professionals do, and I started to look for the best products to use on the different materials. To be a perfect and professional shoe shiner, you need to have that knowledge - and the right tools. Luckily for me, there is an abundance of good quality tools to be found in Italy, such as hand-made brushes used for polishing. I worked so hard to learn all the skills and tricks, I completely went for it until I came close to perfection - and that was the moment I became Eleonora Madame Lustrascarpe, with my own style and my own materials. It was not easy, but I am proud to say that I did it all by myself, with the support of my son and my partner.
Shoe shiners are usually men in a men's world. How is it to be a woman in this world of men?
Sure, everybody views me as an exception, but that doesn't actually create any difficulties or prejudices for me; in fact, being a woman is rather an advantage. I think some of my customers love that I'm a woman, because I work in a different style. Every shoe shining job is different because every shoe is different, so you have to be able to think outside the box to get the best results for special shoes. Because I am who I am and because of the way I got into the shoe shining business, I'm able to think differently to come up with the best solution for every shoe. A customer that regularly has their shoes polished recognizes this and will always come back and spread the word.
Do the men accept you, a woman, into their world easily?
I don't really know, but to be honest, I don't really care so much about it. I try to do my best for my customers and I want to learn every day. Men and women are both part of the same world that we all live in.
What is it that makes you a good shoe shiner?
Only my customers can answer that question. I think that besides the professionalism and skills I offer and the great quality of the products I use, it's absolutely necessary to give the customer an experience and to make them feel good and at ease. It's so nice to have new customers and give them the Ms Eleonora "Lustrascarpe" treatment! My goal is not only to shine their shoes: I also want to create an emotion I can see in their faces while I am doing my work.
Is there a special story you have for us from your work?
I have to say that all people give me something special. It's actually quite a personal thing to polish a person's shoes. A lot of customers have good memories to share, some are really happy, some give me small presents like flowers, or invitations to parties. A long time ago, I had a customer on my chair who told me he used to earn his money as a shoe shiner in Caracas, Venezuela. With the money he made, he purchased a ticket to Italy to study at the university there. While I was shining his shoes, he revealed some of the trade secrets he had learned in Caracas to me. I started using those secrets to improve my style and my skills immediately. I'm still very grateful he shared them with me and I still use them today.
We have seen you at events massaging boots with your bare hands. Can you explain why you use your bare hands?
I work with my bare hands because gloves don't give me the sensibility in my fingers that the leather needs. I also think the skills of a craftswoman are more visible when they use bare hands. When my hands get dirty from the cream and the polish, I'm also really in the moment and more aware of what I'm actually doing. Every shoe gives me a different feeling. I would not feel all this if I used gloves!
You live in the city of Verona. Can you tell us a bit about this city and its beauty?
Everyone falls in love with Verona: it's really Romeo and Juliet's city! It's a city full of stories and monuments of a glorious past and it has a historic center that feels like a "living room" (if you know what I mean!). Verona is an easy city to visit because of its open character. It has a nice central location, it's only a 20-minute drive to the beautiful Garda lake, but also only a 20-minute drive to the mountains. If you visit Verona once, you'll always want to come back. I have a cosmopolitan mentality, so I don't feel like I'm only a Veronian citizen, but I'm also a world citizen. Everywhere I go, I find a reason to love the place. I like all the cultural differences in Italy… my country!
What are your plans for the future?
First, I hope to continue my partnership with the amazing Red Wing family for a long time. When Red Wing and I crossed paths in 2016 and we started working together, it placed my name in a more international context. Before that, I was working in a more Italian environment. But with Red Wing coming from work wear and the USA, it definitely also brought new knowledge about boot and leather care to my experience and skills.
For now, I will continue my "pick up and return service" in Verona, which entails that customers have their shoes picked up by my service and then returned to their home when the shoes are shined and polished. I also thoroughly enjoyed all the events I attended and worked at. I would love to continue doing that and to bring shoe shining to the people at lots of different events.
I have a great project in mind that I'm working on at the moment, but I can't tell you anything about it yet. I'm waiting for the right time and moment to launch this.
We have reached the end of the interview now, but we could keep on talking to Eleonora for days. She has so much energy and so much to tell. This is why we encourage you to visit her at an event and have your shoes polished by her - then you will understand for yourself the passion and energy she puts into her work.