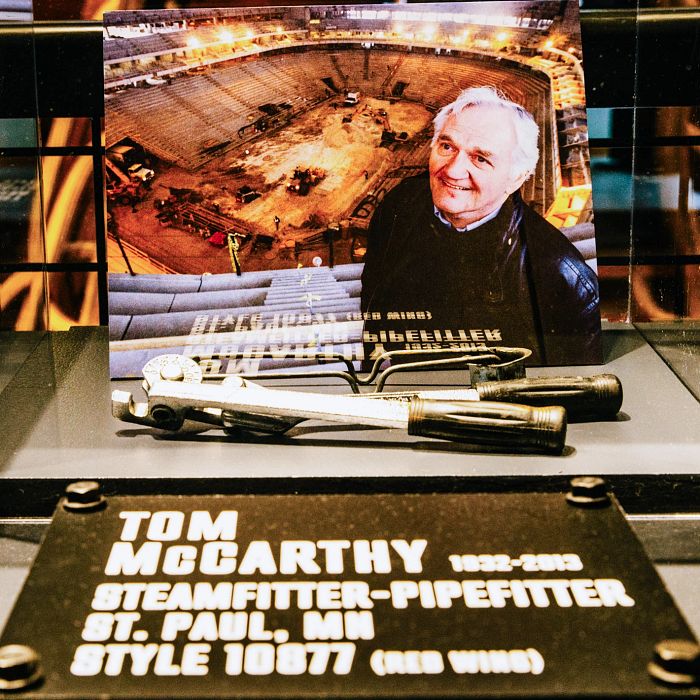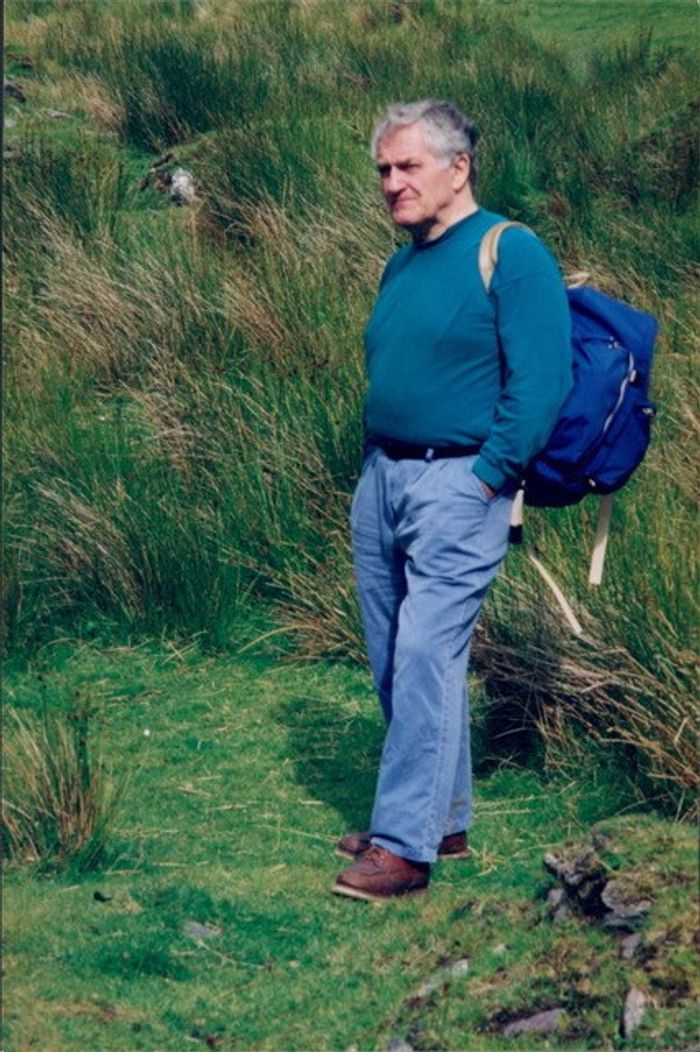 Tom McCarthy
Steamfitter-Pipefitter
LOCATION: St. Paul, MN
Memorialized by his family.
A fitting tribute for a remarkable man.
Three feet below what is now center ice at Xcel Center in downtown St. Paul, Tom McCarthy's last pair of Red Wing boots rest in a time capsule. He said it was probably the 45th pair of Red Wings he owned.
Tom took those same Red Wings on a hiking trip to Ireland in 1991. He planned to retire the boots in some meaningful way when he got back to Minnesota, as a tribute to his 45-year career as a steamfitter-pipefitter and all the hardworking people he met in the trades.
Back home, Tom mentioned his plans to his son-in-law, a tradesman who was working construction for the new hockey arena being built for the Minnesota Wild NHL team. Tom, a longtime sports fan and avid supporter of local tradesman, knew right away he had found the place to retire his boots.
On August 8, 1999, Tom walked to the center of the construction site and buried a cardboard box containing his Red Wings and retirement card from the United Association of Plumbers, Pipefitters and Sprinkler Fitters. The box is labeled "Big Mac's Boots," with the interment date written immediately beneath those words.
Tom's craft was in his blood. He was a self-described "third-generation Irish blue-collar worker," a devoted leader and tireless advocate for the people of the Local 455. Tom followed in the footsteps of his father (also named Tom McCarthy) and Uncle Gerald O'Donnell. All three men were journeymen pipefitters, Minnesota advocates and elected officials of Local 455. He passed down his passion for hard work to his nine children, 21 grandchildren and 19 great-grandchildren, many of whom now work in the trades.
During his career, Tom worked on projects ranging from the World Trade Center in St. Paul to several nuclear power plants throughout Minnesota. He was also an apprentice trainer for 23 years, developing a reputation as a tough but fair instructor who saw to it that young people learned the trades the right way.
Tom had a favorite motto: "Know where your head, hands and heart are." He always knew where his boots were, too. When he took them off after work, he would lace them back up with care and set them in the exact same location. His 877s were as much a part of his uniform as his thermos and lunchbox.
Tom proudly paid his union dues right up to the day he passed. His wish was to be cremated. His son, also a pipefitter, built him an urn out of pipes that was fit for a king.
THERE'S A STORY WORN INTO EVERY PAIR OF RED WINGS.
WE WANT TO HEAR YOURS.
Each year, Red Wing is proud to induct new honorees to the Wall of Honor in order to permanently preserve, share and respect their lifetime of work. Nominate a co-worker, family member or yourself for the Red Wing Shoes Wall of Honor.