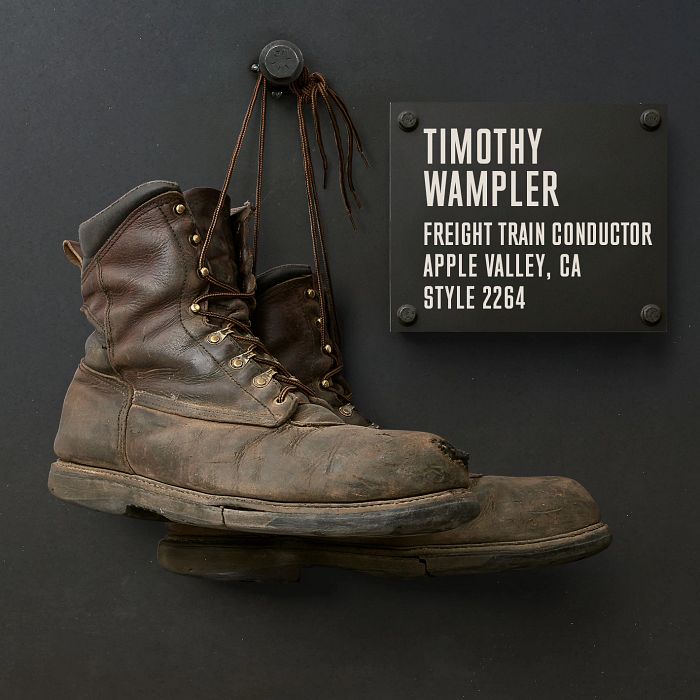 Timothy Wampler
Freight Train Conductor
LOCATION: Apple Valley, CA
These boots were hard to stop wearing.
When I needed my first pair of work boots, I went straight to the local Red Wing store. That's what my father has always worn, so I knew exactly where to go.
I wore my first pair of 2203s almost three years as a diesel mechanic in a waste facility near Washington, D.C. I climbed up, down and inside of trucks all day long, often while handling hydraulic rams and other very heavy parts. Next, I worked as a shop laborer for BNSF Railroad, and was on my feet all day again.
Three years is a long time to wear the same boots. But once my Red Wings got broken in, they fit like an old baseball glove. They just felt right every time I put them on, so I probably wore them longer than I should have.
My second pair has seen the same mileage as the first in just seven months. Last summer, I helped an Army buddy with his solar panel business. We cleaned the panels and installed bird netting, which involved lots of walking up and down from hot roofs. The roof tiles would get up to 160 degrees. I often sat cross-legged to install the netting, and the thick leather kept my ankles from getting burned.
Now I'm back with the railroad as a conductor, often walking long hours on large, sharp rock ballast. My current Red Wings are about to give out, but they're so comfortable that I keep putting them on for another day of work. And another.
THERE'S A STORY WORN INTO EVERY PAIR OF RED WINGS.
WE WANT TO HEAR YOURS.
Each year, Red Wing is proud to induct new honorees to the Wall of Honor in order to permanently preserve, share and respect their lifetime of work. Nominate a co-worker, family member or yourself for the Red Wing Shoes Wall of Honor.