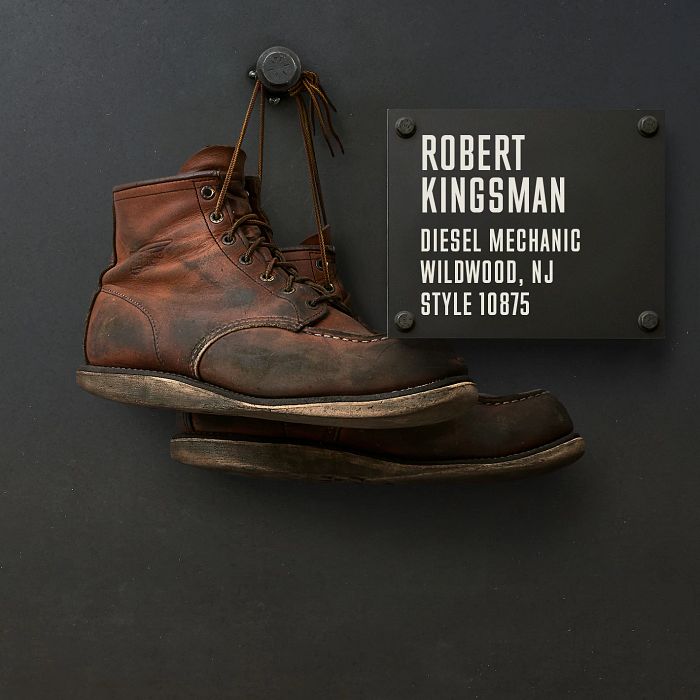 Robert Kingsman
Diesel Mechanic
LOCATION: Wildwood, NJ
Listen to Robert Kingsman
These boots kept a seaside community running.
My mom worked at a diner when I was a kid, so Dad took me with him to the shop where he worked as an auto mechanic. At first, he kept me busy with oil changes and cleanup, but over time I showed an eagerness to learn and took on harder jobs.
Now I'm a diesel mechanic for a resort town where the local population swells from 5,000 to 250,000 people in the summer. There is no time for downtime, especially during the busy season. It is my job to keep all the equipment running across all four seasons — everything from police, fire and EMS vehicles to every public works vehicle that operates in town, on the beach and on the water.
I take great pride in putting taxpayer dollars to good use by keeping our fleet well-maintained and performing like new, so that we can get the longest life out of it. I treat every piece of equipment like it's my own. I expect the best from both the vehicles and myself.
The same goes for all the tools of my trade, including what I wear on my body and my feet. My dad only wears Red Wing boots, which is a habit he picked up from his father, an aircraft mechanic. So I spent my first paycheck on my first pair of Traction Tred 10875s. That was 15 years ago. These 10875s and insulated 1441s are the only two styles I've worn since. And just like the vehicles I maintain, you'll get a long life out of these boots if you take good care of them. I will always be loyal to Red Wing, because I know from experience that the quality will be there. My boots haven't let me down yet, and I don't expect that to change anytime soon.
THERE'S A STORY WORN INTO EVERY PAIR OF RED WINGS.
WE WANT TO HEAR YOURS.
Each year, Red Wing is proud to induct new honorees to the Wall of Honor in order to permanently preserve, share and respect their lifetime of work. Nominate a co-worker, family member or yourself for the Red Wing Shoes Wall of Honor.