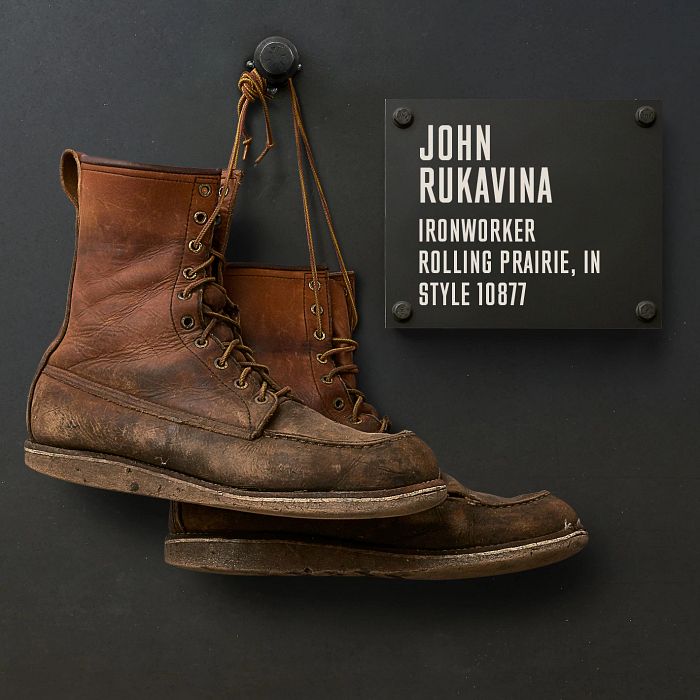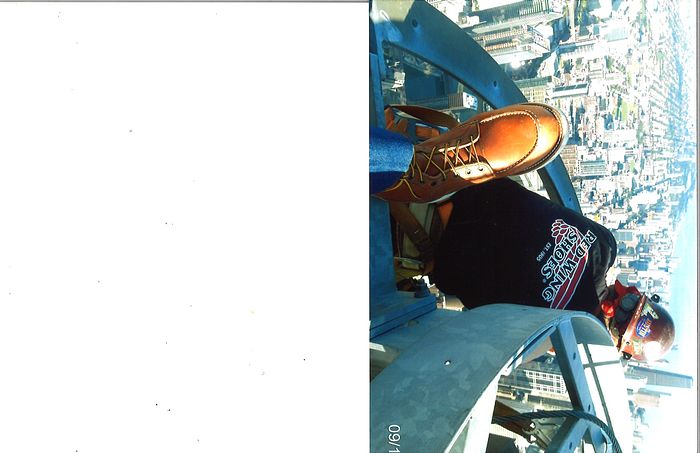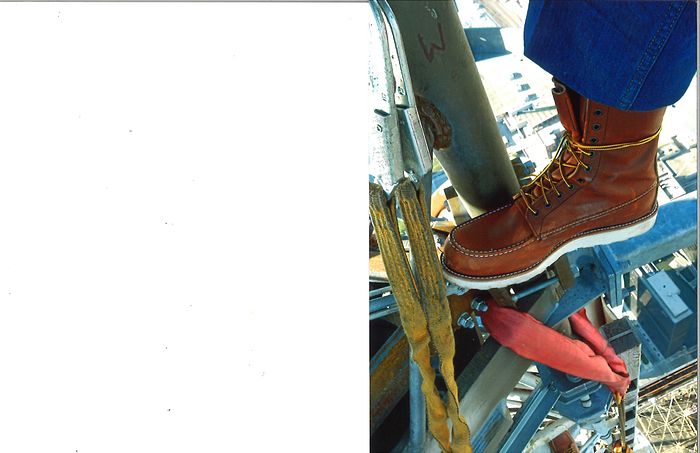 John Rukavina
Structural Inspector
LOCATION: Rolling Prairie, IN
Listen to John Rukavina
These boots walked 12-inch beams 1,000 feet off the ground.
I started out as an ironworker in 1957, when I was 16. I fought my way up, beginning with an actual fistfight that was initiation for getting into the local union. For somebody born and raised on the South Side of Chicago, I take pride in the fact I put up every skyscraper antenna in my hometown: Sears Tower, Hancock Tower, Marina Towers, you name it. You can also see my work in skylines across the country and around the world.
Sure, it is dangerous. To go a hundred stories up in extreme weather to install massive steel pieces with nothing to stop your fall, you need to be tough and sure on your feet. And half crazy. But the other half of you needs to be smart and aware at all times. In my thousands of jobs over the last 50 years, I've seen too many workers sail but I managed to only lose one finger.
I have installed parabolic dishes for NASA and worked in the middle of hurricanes. But the original Sears Tower antenna job in the 70s still stands out as one of the toughest.
It was the dead of winter and temperatures weren't getting above zero. I was on the roof of the world's tallest building looking out over countless small antennas that were already installed and couldn't be moved. This meant we had to find a different way to get our antenna pieces up there than the conventional hoisting engine and gin pole approach. One good thing about this approach is that you can easily shut down operations for the day if conditions get too rough. For this install, the City Commissioner set us up with an expert pilot manning a giant Sakorsky helicopter: a 'crane in the sky' built specifically for this kind of work. This meant the job had to get done regardless of the weather. The helicopter brought in all the iron piece by piece as me and my crew found the best footing in high winds and extreme cold — plus no safety belt, which nobody wore back then because it took too long to tie in.
Somehow that job got done safely. I signed my name at the base, which I would end up doing after every successful install. I would also display the American flag next to each completed job, which was my way of honoring the American workers who built this country and keep it going every day.
It doesn't take much special gear to do what I do. Just lots of layers when it's cold and a good pair of work boots since footing is so important, which for me have always been Red Wings. I started wearing 887s after my first couple paychecks came in, long before a picture in the Chicago Tribune would lead to Red Wing using me in one of their most famous ad campaigns.
Over the years, a lot of people have asked why I do this. The answer is simple: because it's fun. I have always looked forward to the next job, which must mean I love what I do. Now I'm pushing 80, but I still belong to the Ironworkers 1 Local in Chicago just in case I get the call.
THERE'S A STORY WORN INTO EVERY PAIR OF RED WINGS.
WE WANT TO HEAR YOURS.
Each year, Red Wing is proud to induct new honorees to the Wall of Honor in order to permanently preserve, share and respect their lifetime of work. Nominate a co-worker, family member or yourself for the Red Wing Shoes Wall of Honor.