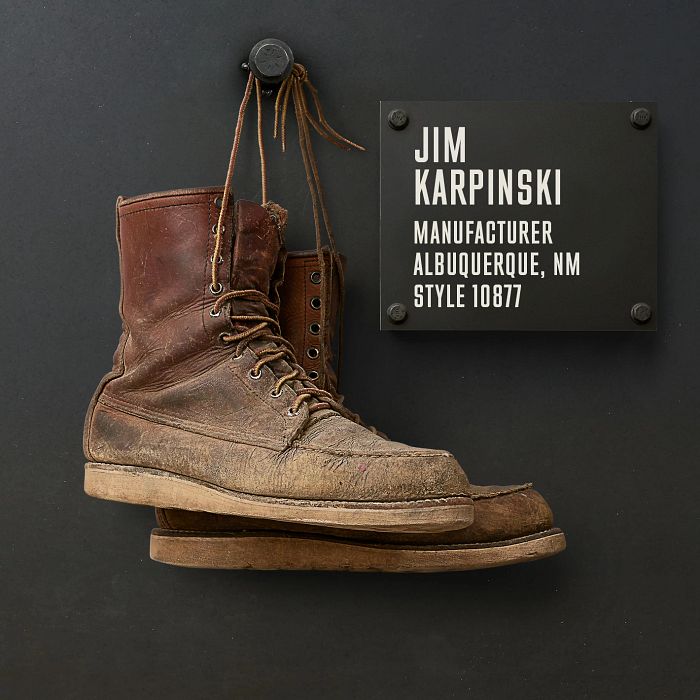 Jim Karpinski
Manufacturer
LOCATION: Albuquerque, NM
Listen to Jim Karpinski
Three generations, 90 years and counting.
My father bought his first pair of Red Wings in 1952. He liked brands with longevity and only spent money on products that last.
He kept that first pair of 854 lace-ups for 50 years. The local newspaper found out about this and wrote up a story, and the local Red Wing store put his boots on display. As far as I know, they're still there.
I wear 877s for work, hunting and hiking, which are similar to my father's 854s. They're great on rocky surfaces. Originally, I worked in roofing and the flat sole of the Red Wings really stuck to the metal surface of the sloped roof. Other guys were slipping and sliding as I walked right past them.
I've been wearing Red Wings for 30 years now. I've worn lace-ups, slip-ons, and steel-toe boots. All of them are comfortable. I worked at Mercedes-Benz for 20 years. Now I'm with a different company that makes specialty insulation for temperature-sensitive medical products.
My 26-year-old son only wears Red Wings now, too, and he's already put in 10 years. That's three generations… and counting. I say that because it won't be long before my grandson is old enough for his own pair.
THERE'S A STORY WORN INTO EVERY PAIR OF RED WINGS.
WE WANT TO HEAR YOURS.
Each year, Red Wing is proud to induct new honorees to the Wall of Honor in order to permanently preserve, share and respect their lifetime of work. Nominate a co-worker, family member or yourself for the Red Wing Shoes Wall of Honor.