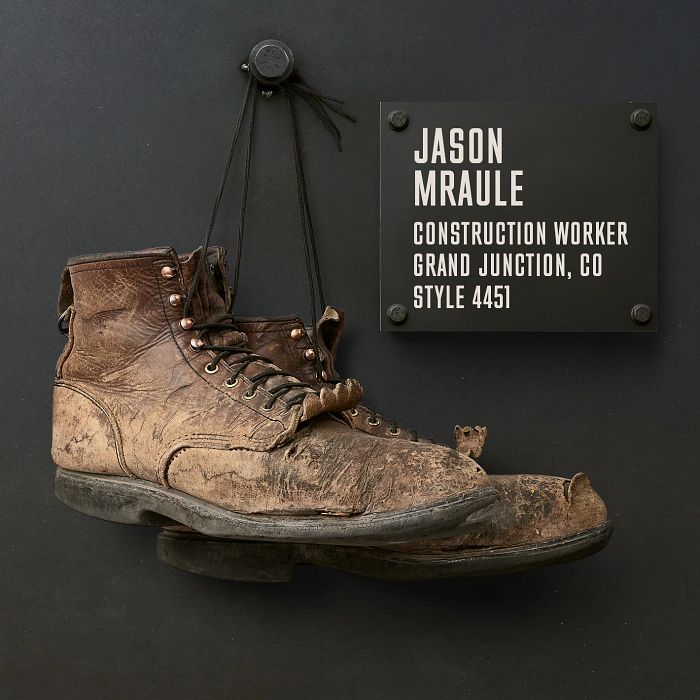 Jason Mraule
Construction Worker
LOCATION: Grand Junction, CO
Listen to Jason Mraule
Standing tall through oversized work demands.
I started working as a laborer at 16, on a concrete job. I needed boots, so I went and bought a pair — not the worst, not the best. Then I found out how concrete treats leather and soles, and those boots fell apart fast. They weren't a perfect fit either, because I have very long and narrow feet and they didn't come in my exact size.
I started asking around about how to get more life out of my next pair. Almost everybody recommended Red Wings. So I went down to the store in town that carries the brand. When I told the guy in the store I needed size 15s —15B to be exact — we got out the catalog. The lace-ups with steel toe immediately caught my eye. And they could be ordered in my exact size.
A few days later, those Red Wings showed up and went right to work. I couldn't believe the difference. When you have a boot that actually fits and is well built, it makes you less likely to roll an ankle and you feel more protected and sure on your feet. I had more clarity to focus on the work at hand.
Those boots took in more sun and lime than a Key West margarita that first summer. And that was only the beginning of the abuse my Red Wings would take over the next 18 years. They've been in extreme hot and cold, heavy rain and blizzards. They've been driven over, axed, bitten and clawed. They've walked over chemicals and stomped out red-hot fires. I've even had to use my steel toe as a makeshift anvil. And they took it all in stride.
I wore those boots for work up until June of last year. That's over half of my life spent in one pair of Red Wings. I'm so honored these boots made the wall. I feel like one day they should be bronzed, too.
THERE'S A STORY WORN INTO EVERY PAIR OF RED WINGS.
WE WANT TO HEAR YOURS.
Each year, Red Wing is proud to induct new honorees to the Wall of Honor in order to permanently preserve, share and respect their lifetime of work. Nominate a co-worker, family member or yourself for the Red Wing Shoes Wall of Honor.