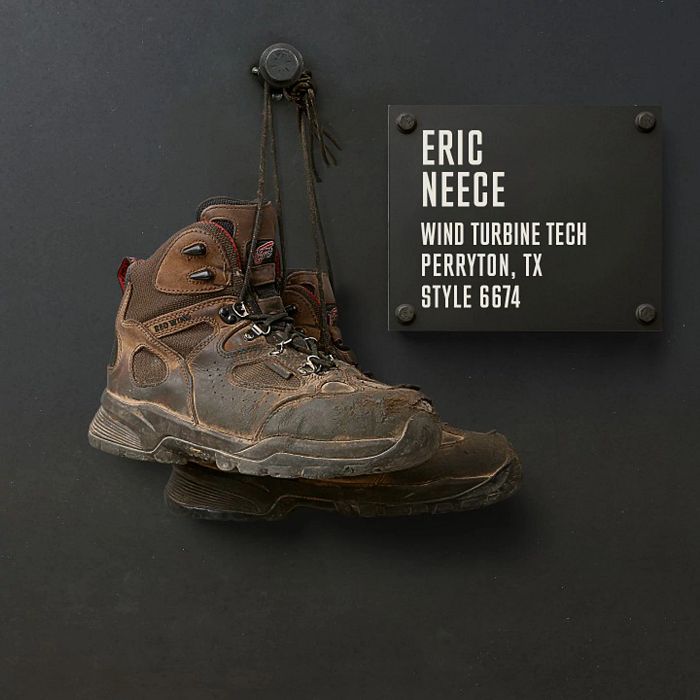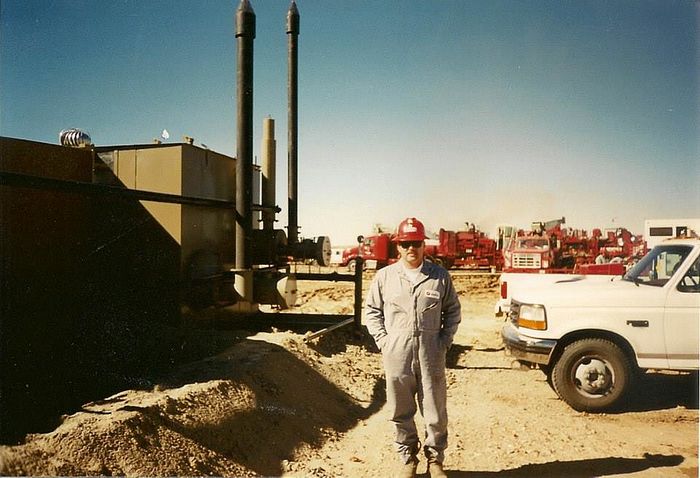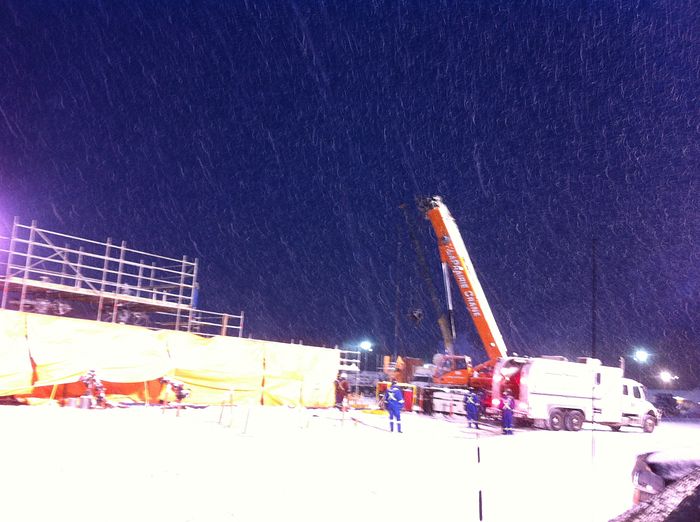 Eric Neece
Wind Turbine Tech
Perryton, TX
Listen to Eric Neece
History made, history repeated.
This story starts with my father. He was a living example of someone who puts in a hard day's work. He stood tall in the eyes of his son, the first man I ever knew who could fill a pair of Red Wing boots.
Back in the 80s, Dad worked as a drilling consultant on Parker Oil rig 201 in western Oklahoma. It was one of the world's largest land rigs at the time. But the oil eventually dried up at that location, and the rig moved somewhere else.
I also learned the oil trade. After I got good at guiding a tool thousands of feet into the ground, I took my skills and saw the world. I worked jobs in Canada, England, Vietnam, Africa, Qatar and all across the USA. Also like my father, I did it all in Red Wings — 2231s for me, because they offer great traction and are good in the mud, rain and snow. I got a lot of wear out of every pair.
Twenty years into it, I got called to a rig in western Wyoming to help with pumping cement down a well to create a permanent hole to work from. I'd done this procedure many times. But for this job, we were going to use a new reverse-circulating method. If it worked, we would set a new world record for the deepest hole ever cemented this way. When I stepped on that rig, it didn't take long to hit me. The name and paint job were different, but sure enough: number 201. This was the same rig my father worked on years ago in Oklahoma. Dad was no longer with us, but I know he was watching. And I made extra sure we set the world record to make him proud.
At the last industry downturn, I got reassigned at my company and started climbing wind turbines. I needed a boot that weighed less and had more stability, so I retired my 2231s and wore Red Wing 6674s.
I'm up 300 feet on a typical day. This is a challenge in itself, and it's even harder when you have a fear of heights like me. But I do okay by never looking down and staying focused on the work. And I think of my daughter, who faces a lifelong health issue with incredible courage and grit. If she can handle what's on her plate, I think, then I can do this. And I do.
THERE'S A STORY WORN INTO EVERY PAIR OF RED WINGS.
WE WANT TO HEAR YOURS.
Each year, Red Wing is proud to induct new honorees to the Wall of Honor in order to permanently preserve, share and respect their lifetime of work. Nominate a co-worker, family member or yourself for the Red Wing Shoes Wall of Honor.