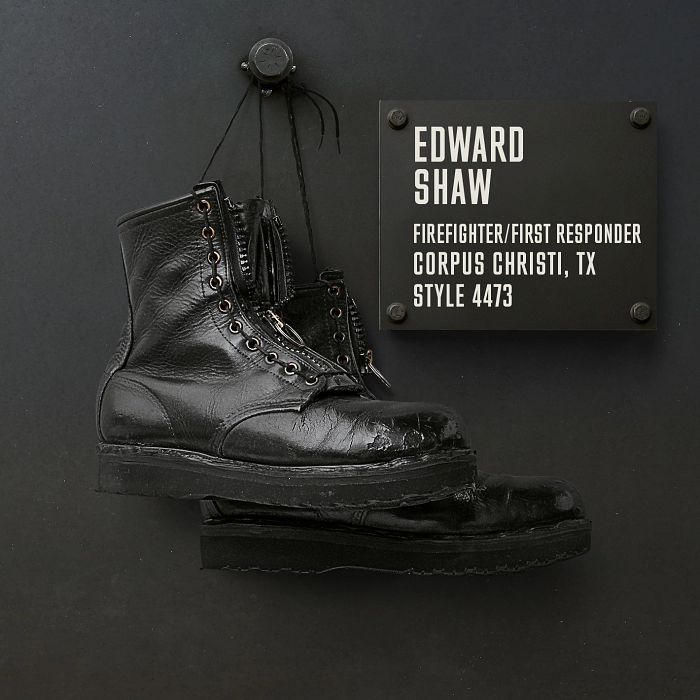 Edward Shaw
Firefighter/First Responder
Corpus Christi, TX
Listen to Edward Shaw
Three generations, 90 years and counting.
When people are experiencing tough moments in their life, I feel honored to be helping them however I can.
I've been a firefighter at this location for 13 years. Every time the alarm rings, the first thing you hear is all of our boots zipping up. Most of us wear Red Wings, just like me.
Our firehouse is in the heart of this city, near a lot of busy freeways and the refineries. On many shifts we are up all night responding to ambulance calls, fires, car accidents, even explosions. I've seen every part of life doing this — including when it gets taken too soon. When we get back in the rack at the station, it's somehow comforting to see all our boots lined up and motionless, waiting to spring into action again when the next call comes in. And we know one will.
My Red Wings are a salty pair. Everything about them tells a story. There are divots all over the leather. Scars from bouncing off the fire engine tailboard. And my soles are worn uneven from slouching at the end of a 24-hour shift. It's no coincidence my dad wore Red Wings, too. He was a welder for 30 years. His boots were part of him, with the burn marks to prove it. For me, they became a symbol of the pride he took in working so hard at his job. I know he'd be proud that I turned out the same.
THERE'S A STORY WORN INTO EVERY PAIR OF RED WINGS.
WE WANT TO HEAR YOURS.
Each year, Red Wing is proud to induct new honorees to the Wall of Honor in order to permanently preserve, share and respect their lifetime of work. Nominate a co-worker, family member or yourself for the Red Wing Shoes Wall of Honor.