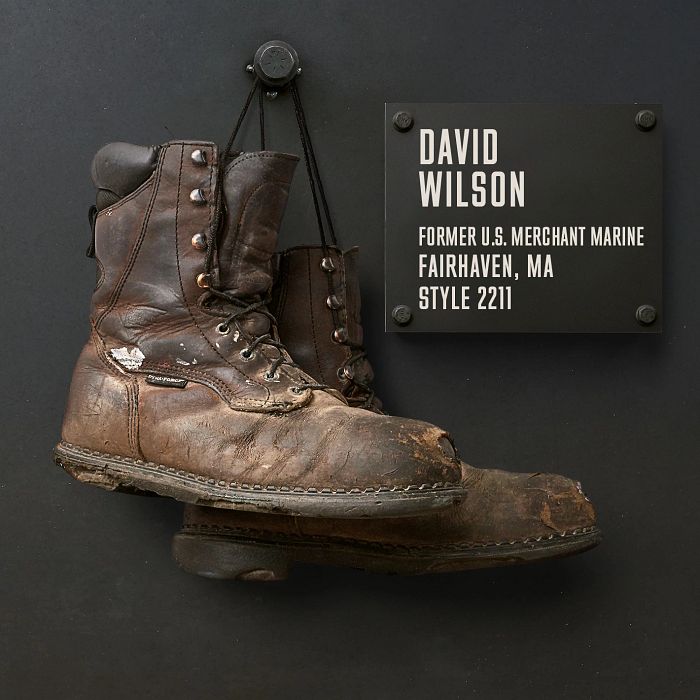 David Wilson
Former U.S. Merchant Marine
Fairhaven, MA
Listen to David Wilson
These boots traveled the world.
My grandmother gave me money to buy work boots when I graduated from the Maine Maritime Academy in 2012. I bought a pair of 2211s, and she insisted on wrapping up the box and having me open it. Inside the box were the boots and a note. 'Make us proud,' it read.
That summer I worked the tugs in New York Harbor. In these boots, I took in the Statue of Liberty, the Hudson River, and the New York City skyline for the first time.
I was really glad I had those Red Wings on three years later. I was working on an 80-foot aluminum ferry in Buzzards Bay, Massachusetts, that day before a hurricane was due to hit. An anchor broke free and sent me flying. The steel toe of my boot caught the railing long enough for another deck hand to keep me from going headfirst into the 15-foot waves. Now I see the world when I look at these boots, because these boots have seen the world with me. From the North Sea to the Mediterranean to the Atlantic, and walking throughout Europe. I see the ships I called home. The tugs, the ferries, the barges. The hard work. I see the people who helped me when I needed it, and the people I helped in return.
I also see my grandmother. She may have passed on, but I feel like she was right there with me on every step of my journey. And I hope I made her proud.
THERE'S A STORY WORN INTO EVERY PAIR OF RED WINGS.
WE WANT TO HEAR YOURS.
Each year, Red Wing is proud to induct new honorees to the Wall of Honor in order to permanently preserve, share and respect their lifetime of work. Nominate a co-worker, family member or yourself for the Red Wing Shoes Wall of Honor.