Smooth-finished leather has a polished surface that showcases its beauty and quality. Smooth-finished leather is made strictly from top-quality hides and is used to build premium Red Wing Heritage styles. This leather requires more specialized care and attention. Actively maintaining leather is the most effective way to ensure integrity and longevity. Learn more with our Red Wing care guides.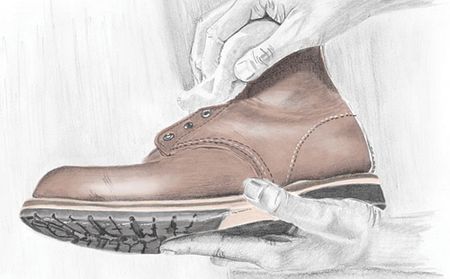 Clean
Use a quick exam every few weeks to determine if the leather needs maintenance. Use warm water and a soft bristle brush to remove stuck-on dirt. Then use a clean, dry cloth to wipe away any remaining excess dirt.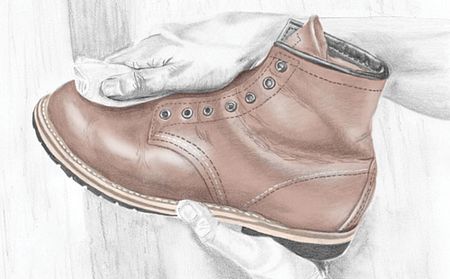 Condition
Apply Leather Cream or Neutral Boot Cream to any smooth-finished leather to hydrate the leather without darkening and bolster water resistance. Black, Brown, or Burgundy Boot Creams can be used to cover scuffs on corresponding leather color.
Protect
Add extra protection to preserve your footwear. Lightly mist footwear with Leather Protector six to eight inches away from the leather in a sweeping motion. Leather Protector provides an invisible shield against moisture, dirt, oil and mud. It will not darken footwear.
Leather-Specific Care Instructions
Black Cherry Featherstone